Description
About Ceramic Barbell
After many years of producing some of the finest Olympic barbells in the world, Manta is proud to introduce our latest innovation: Ceramic Barbell. This is one of our most exciting accomplishments. Corrosion salt spray testing has shown that this Ceramic coating lasts much longer than chrome and even stainless steel.
The Ceramic Barbell is a solid, versatile barbell for just about any application. We've tested ceramic barbells against the day-to-day demands of heavy training, and it's proven to last. The bar shaft is made from precision ground alloy steel. And we test the strength of the shaft with every shipment of raw material to ensure we have a consistent 190,000 PSI tensile strength. This attention to detail allows for an excellent whip and long-term performance of our bars. The shaft is in Ceramic coating, and the sleeves are in hard chrome for added durability. This ceramic coated barbell has a knurl pattern and offer a super solid grip. In addition, our Training Bars also feature quality composite bushings for smooth rotation.
Coating of Ceramic Barbell
We have found that if applied correctly, the Ceramic can have a far longer lasting coating than zinc. They can stand up to the oils and acids that a barbell is exposed to. This means, with the bright colors your bar will stand out and look super cool. We do need to mention that if you plan to use your bar with metal J-Hooks you will scratch the Ceramic coating just like you would any coating.
We recommend to use the zinc coating sleeves, because aesthetically it holds up better to the sliding of metal or bumper plates on and off the sleeves. That being said if you just want Ceramic sleeves please call us at +86-1377-561-1273 to make a special order.
We also offer separate versions of the Stainless Steel Barbell.
Features
1) Bar Type: Multi Purpose Barbell, Custom Barbell
2) Available in a range of exclusive colors, such as blue, red, yellow, black, etc.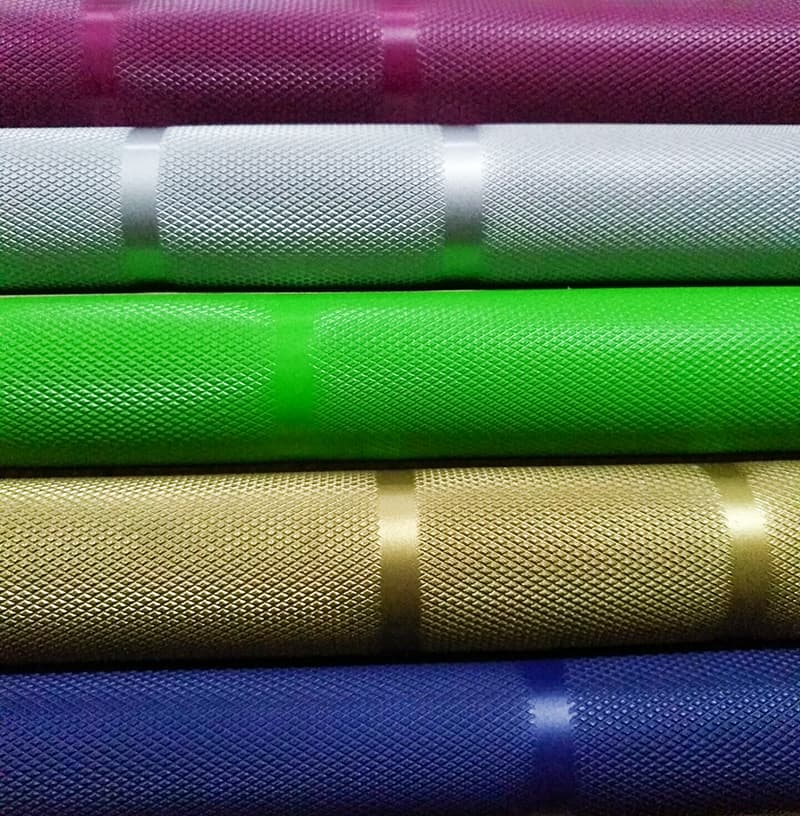 3) Find more from our page of Custom Cerakote Colors for Barbell.
4) Custom logo can be branded on the center of the shaft
PLEASE NOTE:
Ceramic has an excellent resistance to corrosion, but metal-to-metal contact, particular on the sleeves, can still cause wear over time.
For the best long term results, some cleaning and maintenance may be required.
See our Maintenance of Bars Coated With Cerakote Page
Related Barbell with Cerakote Coating: