Description
About Stainless Steel Barbell
Our Stainless Steel Barbell has a full stainless steel shaft and sleeves. This smooth sleeves make sliding iron on and off easy, so no worry about scratching off a finish or taking paint off your plates.
Stainless steel is known for its unmatched oxidation resistance, but not all types produce the same level of performance. This bar handled one of the greatest loads in history, due to the length of the shaft and sleeves. That very same steel went into making our 28MM stainless steel Olympic barbell, and it's a difference you can instantly feel.
With no plating, the knurling on the stainless steel Olympic bar completely retains our processing method. And this natural surface provides an excellent feel that other finishes can not reach. It is similar to the knurling of bare steel shafts, but has better corrosion resistance. The combination of a stainless steel shaft and a chrome-plated sleeve also creates a clear appearance with few other advantages.
Combining a stainless steel, 190,000 PSI tensile strength shaft with industrial hard chrome sleeves and quality needle bearings, this version of the sOlympic WL Bar ranks among the best in the industry for feel, durability, and performance. Each 20KG bar includes an exclusive knurl pattern, which is precision-cut for a firm grip without the sharpness or abrasiveness.
Please note: Manta recommends using a synthetic stiff brush instead of a steel brush to clean stainless steel barbells; Steel on steel will rust over time.
See more tips here: How to Maintain the Stainless Barbell?
See also Stainless Steel Bar vs Chrome Barbell
In addition, we also offer the Oly WL Bar in a Bright Zinc finish, a Ceramic Coated Barbell, and More China Barbells
Specification of Stainless Steel Barbell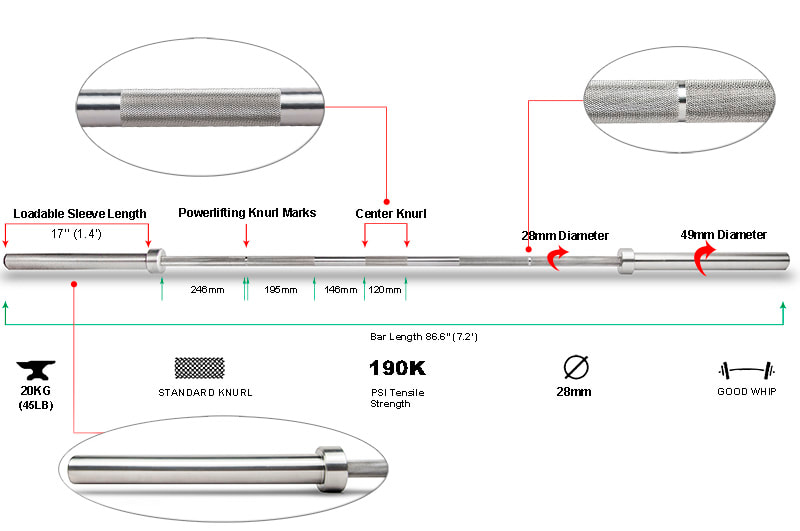 Brand

OEM Available

Bar Type
Olympic Barbell

, Stainless Steel Barbells

Bar Use

Olympic Weightlifting, Powerlifting

Bar Weight

20KG (45LB)

Diameter

28MM

Knurl

Multi

Center Knurl

Yes

Knurl Marks

Single

Shaft Coating

None – Stainless Steel

Bar Length

86.6″ (7.2′)

Loadable Sleeve Length

17″ (1.4′)

Sleeve Coating

Chrome

Tensile Strength

190,000 PSI
Details Presentation