Description
About Competition Kettlebell
The Competition Kettlebell come from a steel shell with an unpainted sanded handle. Regardless of weight, the competition kettlebells always stay the same dimension. That is to say, every Competition Kettlebells have the same outside dimensions, such as base diameter, height and handle width. Thus you never have to change you technique as you go up or down in weight.
Each kettle bell includes a smooth powder coating to reduce friction and discomfort during overhead presses, cleans, and snatches. Also you can quickly distinguish different weight at a glance according to the different color coating. On the other hand, the front face of each bell displays the weight with KG or LB. In addition, the window opening allows for quick and easy hand insertion.
Features of Competition Kettlebell
1) Type: Competition Kettlebells
2) Steel shell, instead of Iron;
3) Handles are unpainted and sanded;
4) Wide, flat machined base;
5) All weights feature the same dimension;
6) Available in different weights and colors.
(4 / 6 / 8 / 10 / 12 / 14 / 16 / 18/ 20 / 24 / 28 / 32 KG)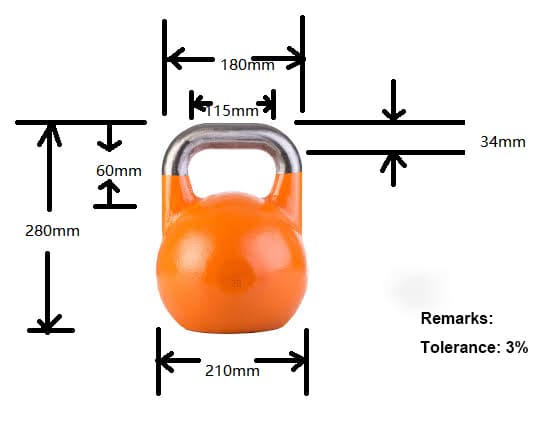 Should I Choose Competition Kettlebells or Cast Iron Kettlebells?
Firstly, we supply both Competition Kettlebells and Cast Iron Kettlebells. On the other hand, we learnt some people confuse the difference between them. Following is our suggestions. Hope it's useful for you to choose the right kettle bells.
Basically, At 40kg someone presses and snatches feel better with a competition kettlebell than a cast iron one; On the other hand, for one arm swings the handle of the competition kettlebell is almost "too small" in diameter. In this case, you would prefer the thicker handle of the cast iron kettlebell. For two-handed swings, most people prefer cast iron, because the handles are typically a little wider and easier to get more fingers in. If you are doing much from a "goblet" position like squats or pistols, the handle on the cast iron bell will allow you a better grip than the competition kettlebells.
So, in our opinion it depends on what you plan on doing with it. For presses and snatches, we recommend the competition style; Regarding swings, goblet squats and pistols, we recommend the cast iron.
" I have a couple cast iron bells and I do prefer them for HS training. But I enjoy GS snatches and long cycle too.
So a competition bell would be great for GS lifts and good for HS practicing… whereas a cast iron bell would be great for HS but bad for GS training. "
" I prefer the look of cast iron as well but I feel comp bells will at least allow me to train in both styles. "