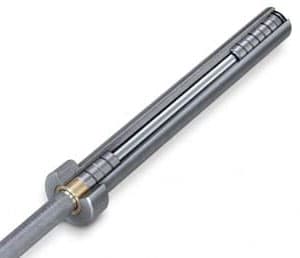 Difference between Bearing and Bushing Sleeves of Barbells with / without Cerakote Coating
The bar is coated with more cerakote than what you can see, part of the bar cerakoted is hidden in the sleeve, in touch with bushing fixed on the opening of the barbell sleeve, no matter bearing or bushing structure, this bushing is a must, and it's pretty important, if the outer diameter is too big, it would be difficult to assemble into the sleeve; if the outer diameter is too small, it would be too loose to fix the position.
The bushing structure is more economic, if the brass bushing is machined perfectly, it will work well with sleeves. It's quite suitable for power lifting, which does not require much spinning, and it's more durable. As a manufacturer, I have to say, to keep the concentration of the sleeves and the precision of the bushing is not that easy by machining.
You can take a reference at the video to aware why the concentration is so important for barbells.
The bearing structure makes the sleeve spins smoothly, especially the bars with high quality needle bearing, which is good for weight lifting, but if the weight is so heavy and guys drop frequently, the span life of bearing would be dramatically shorten, you would need to change the bearings every 2-3 years, bushings will last much longer. Bearing structure will cover the concentration and uneven problem of sleeves, so unprofessional factories could also produce a bar which could be used to some extent.
If you're not taking risks, take a bearing bar; if you have confidence in the manufacturer, and your application is power lifting, why not choose a bushing bar?
View our Cerakote Coated Barbell products.
You may also interest:
Cerakote Vs Stainless Steel Barbell