Description
About Kids Barbell
We'd like to introduce our new Kids Barbell. This bar has excellent balance, and the same quality you'd expect from other high-end barbells. The bar is anodized in several colors like green, blue, red, and so on.
As you know, when children are learning to use mini barbell, it is very important for them to have a complete free range of motion. The ideal bar for kids would be a light weight bearing bar, but they don't currently exist. We also know that traditional bearings are very expensive. With that in mind, we started to create a bearing bar by machining the bearing surfaces into the bar and sleeves, instead of adding the cost. By doing this we have created a free spinning bar at a fraction of the price.
Please take note, the Kids Barbell bar is built for technique purposes for smaller athletes (such as children). To achieve the light weight of 2KG, we build kids barbells out of aluminum. On the other hand, kids barbell can bend under excessive impact. So please be mindful of this when using kids barbell set during training. Put no more than 20KG on the bar during workout. In addition, please note that these bars are anodized, therefore you will notice wear on them as they get used.
Specifications of Kids Barbell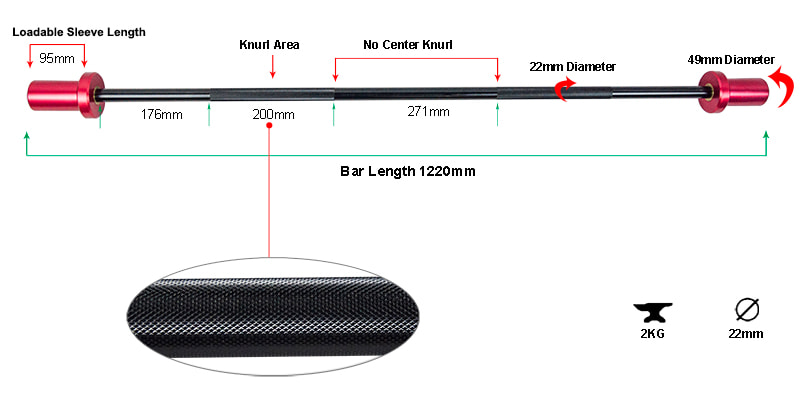 | | |
| --- | --- |
| Brand | no logo or OEM |
| Bar Type | Junior Bars, Technique Bar |
| Bar Use | Kids Fitness Training |
| Bar Weight | 5LB |
| Diameter | 22mm |
| Bar Length | 1220mm |
| Color | Green, Pink, Blue, Red, Purple |
Features
1) Designed for kids;
2) Materials:  Aluminum;
3) Beautiful Colors: The bar is anodized in several colors like green, blue, red, and so on.
Issue You may Concern
What is the connection between aluminum Olympic training bar and technique barbell?
Similar Products:
1) Aluminum 15 lb Olympic Training Barbell Bar
2) 5kg Aluminum Technique Barbell Bar