Description
About Olympic Tricep Bar
A Olympic Tricep Bar is a rectangular shape with two or more handles inside of it. It suits specially for isolation movements, such as bicep curls, tricep extensions or front raises. In addition, you can also use it for compound exercises like the close grip bench press.
How many types of barbells are there? There are the regular straight barbell, the Ceramic Bar, the Hex Trap Bar, the Super Curl Bar and…well, that is all you can find in most gym. Yet there is another type of bar that we don't get to see as often, but is still very useful, both in the gym and at home. That is the tricep bar.
This tricep bar will work with Olympic weights (2″) only. So, if you already have Olympic weights at home it might be one of your best picks. Given that it's a smaller bar, it is also light weight – around 28 pounds.
Other than that, it look like a premium product. In spite of the low price, the bar looks really well, as there are no visible issues with the welding and the finish.
Specifications of Olympic Tricep Bars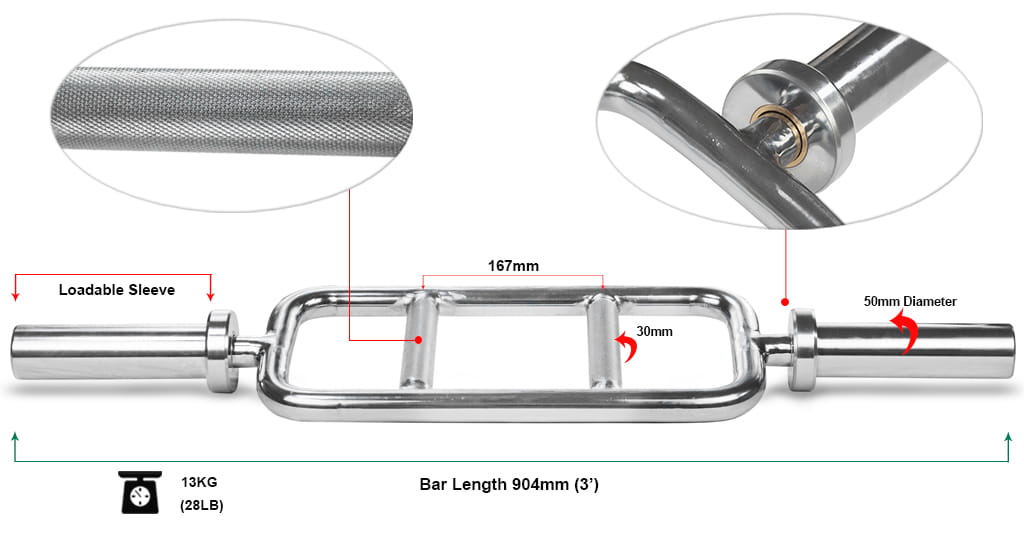 Features of Olympic Tricep Bar
1) Type: Olympic Barbells, Specialty Barbells
2) Solid Steel with Chromed Finish for durable and long-lasting performance;
3) Medium-depth knurling for a comfortable, non-slip and tight grip;
4) Targets the triceps, biceps, and shoulders, while avoiding strain on the elbows, wrists or forearms;
5) Suitable for interval routines, and more;
6) Accommodates Olympic 2″ weight plates.
Application
1) Front raises (anterior deltoids);
2) Biceps (hammer curls);
3) Triceps (lying and overhead triceps extensions).