Description
Rubber Hex Dumbbells
The Rubber Hex Dumbbells features anti-roll hex shape heads and a easy-to-grip contoured handle. First, the dumbbell heads have rubber coating to resist cracking, fading, and protect floors and equipment; Second, the handles are designed to prevent slippage during your workout; Third, the hexagon shape prevents them from rolling and makes them easier to store. In addition, they also help to reduce fatigue and maximize comfort. Through this low maintenance design, the ends are cast with a through hole to secure  to the handle, and the final step is to over-mold with rubber onto the end weights. That's an extremely durable process. No loosening or spinning.
These rubber coated dumbbells are a great addition to your gym or home , no matter you are just starting out or a seasoned weight lifter. These Rubber Hex Dumbbells are available in different weights. With these dumbbells, you can exercise your biceps and triceps, deltoids, trapezius, and so on.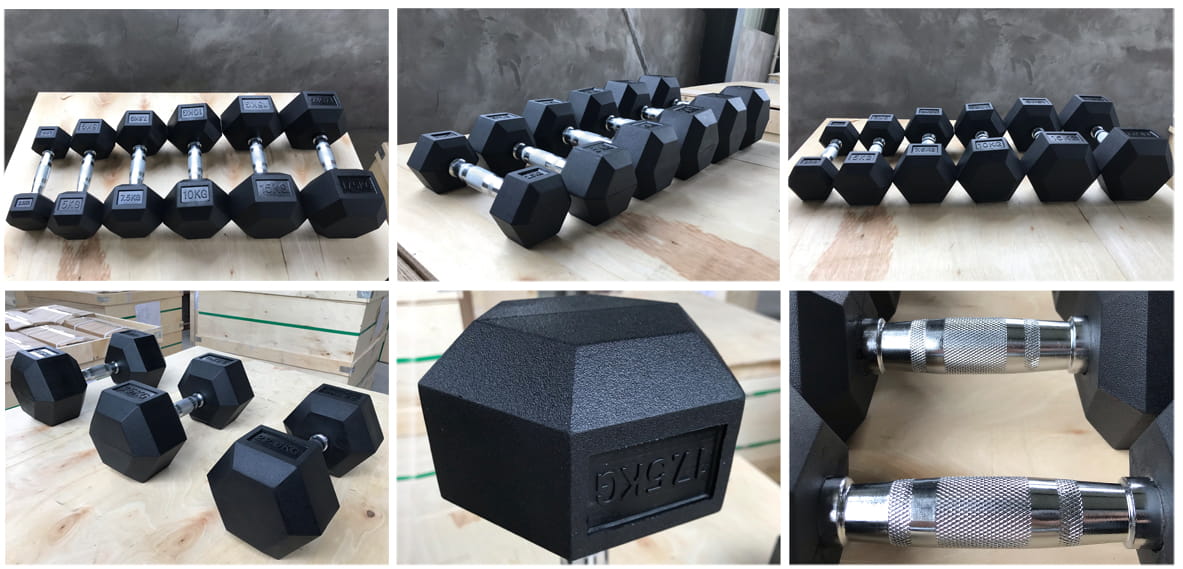 Features of Rubber Hex Dumbbells
1) Type: Rubber Dumbbells
2) Hexagon heads to prevent rolling and provide easier storage;
3) Made of solid cast iron with a protective black rubber coating;
4) Contoured, easy-grip chrome handles;
6) Weights arrange from 1KG to 70KG, and 3LB to 120LB.
To reduce costs, all of our dumbbells are sold and shipped in pairs or sets. It is a lot cheaper to ship 1000kg plus. Save some money today. You will not regret purchasing Manta dumbbells.
Specifications
| | | | | |
| --- | --- | --- | --- | --- |
| Weight (KG) | Size (CM) | | Weight (KG) | Size (CM) |
| 1 | 23*6.7*5.8 | | 17.5 | 34.5×16.5×14.0 |
| 2 | 24*7.5*6.5 | | 20 | 36.0×16.5×14.0 |
| 2.5 | 25.0×8.5×7.3 | | 22.5 | 37.5×17.5×15.0 |
| 3 | 25.0×8.7×7.0 | | 25 | 38.0×18.0×15.8 |
| 4 | 27.0×10.5×8.9 | | 27.5 | 38.5×18.5×16.8 |
| 5 | 28.5×10.5×9.2 | | 30 | 39.0×19.5×16.8 |
| 6 | 29.5×11.8×10.0 | | 32.5 | 39.5×19.5×17.0 |
| 7 | 29.5×11.8×10.0 | | 35 | 41.0×21.0×17.8 |
| 7.5 | 30.6×12.1×10.6 | | 37.5 | 41.2×21.0×17.8 |
| 8 | 30.6×12.8×10.6 | | 40 | 42.5×22.0×19.2 |
| 9 | 30.6×12.8×10.8 | | 42.5 | 42.5×22.0×19.2 |
| 10 | 31.5×13.8×11.5 | | 45 | 44.0×22.0×19.2 |
| 12.5 | 32.5×14.5×12.3 | | … | … |
| 15 | 33.5×15.5×13.0 | | 70 | |
Rubber Hex Dumbbells Manufacturing (Production) Process